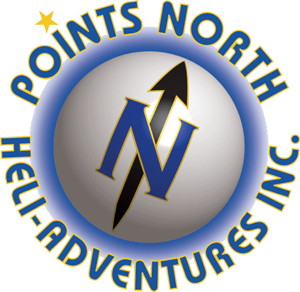 The Points North Heli-Adventures Trip for Two
A trip of a lifetime could again be yours this season!
That's right, 101.5FM is sending one lucky listener and a friend Heli-Skiing in Alaska for one week with round-trip airfare and lodging included!
THREE WAYS TO QUALIFY:
Online.  We will qualify listeners through both our weekly email blast and Facebook page.  Sign up here for the email blast Or here for Facebook, if you're not already a fan.
Tune in daily and listen for a DJ to prompt you to call in.
Fill out an entry form at a Little Black Box location.  Tune in weekly for additional details
ONE WAY TO WIN:
On Friday, March 29, 2013, one winner will be drawn for the grand prize.  The contest will begin at 10am.  You MUST be listening to win.  If your name is announced on-air, you will have 10 minutes to call the station, or another entry will be drawn.  A standby winner will be selected in the event that the chosen winner does not respond or is unable to travel during the trip dates.  You do not need to be listening to win the runner-up prizes.  If you do win one of the  additional prizes, Truckee Tahoe Radio will notify you via email or phone.
THE GRAND PRIZE:
One trip for two (2) people with Points North Heli-Adventures, booked for April 20-27th, 2013  Trip includes:
Round trip airfare from Sacramento to Cordova, Alaska – courtesy of SCHEELS

Transportation to/from Cordova airport to the Points North Orca Lodge
Breakfast, lunch and dinner in the lodge, daily
Five heli hours (per person), estimated 7-9 runs per heli hour
Seven Nights Lodging at Points North Orca Lodge (double occupancy)
Nargear "Theo" Guidepack
Trip does not include alcohol, additional heli hours, gratuities, or other incidentals.
ADDITIONAL PRIZES:
1st Prize – Two 2013/2014 Epic Passes from Northstar California
Runner Up Prizes:
-  $500 gift certificate to Sports Exchange
-  $500 gift certificate to Totally Board
HERE'S HOW IT WORKS:
The trip is booked April 20 thru April 27, 2013.  No date changes allowed.
Once a winner is selected, the trip is non-transferrable.  If you are unable to travel on those dates, a new winner will be selected.
The 101.5FM Little Black Box will move to different locations.  You may only fill out one entry form per location.
Any incomplete entry forms will be considered void.
Entries will be discarded weekly.
If we lose your call due to any technical malfunctions, the next caller will be qualified.
One Email Club member will be qualified to win every week.  You may only respond once per email blast.  If you reply multiple times with different answers, your first response will be the only one considered.
Points North will refund a deposit made if promotion winner has paid and booked a trip of equal or lesser value after promotion giveaway date April 1, 2013.
MORE RULES:
A valid email address is required from all qualifiers.
All qualifiers will be sent a survey that must be returned in order to complete the qualification process. Incomplete or non-returned surveys will be considered void, and entry will be disqualified.  101.5FM collects data from our qualifiers in order to provide our sponsors with demographics and statistics. Your personal details will be used for these purposes only, and will not include sharing specifics such as name, email and phone number.
KTKE reserves the right to terminate a contest at any time.
Must be 18 years or older to qualify and win.
All contests are open to the general public excluding employees, agents, subsidiaries and affiliates of 101.5 FM, their immediate families, and household members.
Any person who has won a prize with Truckee Tahoe Radio valued at $1000 or more in the past five years is not eligible for this contest.
All local, state, federal and other taxes, duties, title fees, licensing fees, or other fees for prizes awarded become the sole responsibility of the winner. Any recipient of a prize valued at over $600 will be issued an IRS form 1099 to report their winnings.
All prizes are awarded "as is".
The station shall not be responsible for the failure of participating sponsors to deliver prizes as promised.
All entrants and winners agree that the station and their affiliates shall have no liability and shall be held blameless for any injury, misfortune, or damage to either persons or property incurred by entering, participating in, winning, or losing any contest by use or non-use of any prize received.
Proper identification must be presented to claim prize.
All entry blanks, forms devices and materials, as well as the information contained within, gathered during the course of entry, shall become sole property of the station to be used, disposed of or destroyed at the discretion of the station.
All entrants and winners agree that the station may broadcast or publish their name, city of residence, photo, video tape, film or any other likeness, including their voice recorded or live, for any reason the station deems necessary without compensation.